About Us
Chicago Blower Canada is a leading supplier of industrial and commercial fans, ventilators, blowers and accessories for various air-moving fan applications.
Chicago Blower offers a complete line of centrifugal fan equipment, from small Baby Vent Fan Sets capable of moving a few cubic feet per minute (CFM), to large, heavy-duty industrial mechanical draft fans with capacities to 1,000,000 CFM and with static pressures from 0" Water Gauge (WG) to 150" WG.
Chicago Blower products include standard centrifugal fan and customized blowers designed to meet our customers' requirements based on Chicago Blower manufacturing standard.
Over the years Chicago Blower / Canada supplied centrifugal fans to a wide range of industries and applications including: combustion air supply, material handling, process ventilation, ovens and dryers, iron and steel industry, mine and tunnel ventilation, petro-chemical, power generation, marine and off-shore structures, pulp and paper, HVAC, paint / spray booths, fertilizer and various emission control applications. For the commercial HVAC market, Canadian Blower offers general ventilation fans for institutional and retail buildings, schools, restaurants and hospitals. Special materials, construction, explosion-proof and spark-resistant design, variety of coatings and accessories are available to meet practically any application needs.
Chicago Blower fan repair, retrofit and service shop provides complete rebuilds, shaft repairs, blade liners, in-field balancing, vibration analyses, performance upgrade, increased fan capacity, all metallurgies, all type of fans repair, and emergency service on all sizes and designs.
Chicago Blower air moving products are best know for "industrial quality" assuring reliable performance, relentless dependability and longevity. A staff of specially trained engineers will design a dependable fan that exactly fits customers' dimensional and performance requirements.
Chicago Blower fans and blowers are sold and serviced by air moving experts that can evaluate your needs and provide best recommendations for your application.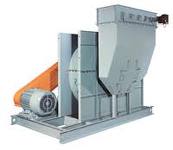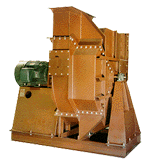 Production of air scrubber blowers, fume collector fans, positive displacement blowers, Aeroven Blowers, Twin City, NYB fans, blowers & fans repair and rebuild, Lau fans, plug fans ventilators, sheldons fans blowers, cooling fans, FRP ventilators, industrial mancoolers, Cincinnati fans / blowers, air polution control ventilators, blowers and fan exhaust systems, air make-up fans, air knife pressure blowers, high pressure blowoff fans, burner blowers, combustion process fans, conveyor blow-off fans, air canon fans, dust collector blowers, finishing systems fans, fan exhausters, fume exhaust ventilators, furnace fan blowers, incinerator fans. As compared to belt drive fan arrangements, direct drive Arrangement 4 fans of all styles, where the fan wheel mounts directly onto the motor shaft, are more compact, require less maintenance, and generally have a lower first cost. However, relative to belt-drive fans, they are limited in application, size, available features, and the ability to adjust performance. Direct drive Arrangement 8 fans offer much of the flexibility of belt driven fans and are even preferred in systems that require large volumes of air and are over 250-300 HP due to drive limitations. A major objection to direct-drive arrangements in the past was the inability to adjust fan speed if system requirements changed. With the advent of variable frequency drives (VFDs) the speed, and therefore performance, of direct-drive fans can now be adjusted to meet varying requirements. See page 8 for additional fan-control information. Given the variety of operating speeds available, choices in wheel width, and its effect
on wheel safe speed limits, the only cost-effective method for selecting today's direct-drive fans is software selection fan programs.
Belt driven fans, where the fan wheel is supported by a shaft and bearings and driven by belts, allow for a wider range of sizes and applications, and offer a greater selection of accessories and modifications. However, relative to direct-drive fans, they have a larger footprint for a given fan size and have a higher first cost. Without additional controls, belt-drive fan performance can be easily altered in the field by changing sheaves and belts.
Wall Exhaust Fans - A Series:
- Designed for industrial reliability and quiet efficient operation;
- Sizes from 8" to 84" DIA, up to 100,000 CFM air volumes, exhaust & supply configurations;
- Direct drive (low maintnance) and belt drive (adjustable) arrangements;
- Easy installation in any type industrial and commercial building;
- Wide range of accessories: gravity & motorized shutters, wall housings, weather hoods, louvers; disconnect switches, wall sleeves, protective coatings...