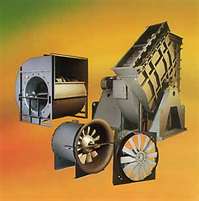 Canadian Blower Duct TubeAxial and VaneAxial Fans
Canadian Blower and Forge Duct TubeAxial and VaneAxial Fans for variable volume air handling applications utilize adjustable pitch high efficiency aerofoil aluminum propellers to provide optimum performance. Buffalo Type VPS Adjustax Fans have an internal blade pitch adjustment, which allows to bring variable air volume capability for air conditioning fans, heating and ventilating applications.
Clamshell Design Vaneaxial Fans are used primarily in applications where ready access to the interior of the fan is desired. The entire bearing assembly can be removed quickly and easily from the fan, without removing the fan from the stack. Heavy duty pillow block anti-friction bearings with split inner cylinder are standard. Clamshell design vaneaxial fans are avaiable with steel wheels and aluminum wheels.
Spray Booth Design Vaneaxial Fans are available in standard belt drive arrangement 9. These fans are designed for use in spraybooth installations, or in a variety of applications where requirements make it necessary to clean the fan periodically. Standard fan accessories include: inlet / outlet cones, inlet bell, screensfor fan, cone, or bell; belt guard, weather proof motor and drive cover, spark resitant fan construction with aluminum wheels, or steel wheels with bronze tipped blades; support legs, suspension clips, shaft seals are also available as standard options.
Spark Resistant X-proof construction on tubeaxial and vaneaxial fans is available in all aluminum airstream (AMCA A) construction; aluminum wheel (AMCA B) construction; and steel wheel with bronze tipped blades and shaft retainer (AMCA C) construction.
High temperature fan construction: upon request Buffalo vaneaxial fans can be furnished with optional high temperature construction for oven exhaust, or combusting gases exhaust applications.
Corrosion resistant construction and chemical duty construction: for corrosive environment all vaneaxial fans are available in FRP construction, as well as in 304 SS, 316 SS, or 316 L stainless steel construction. Special coatings are optional and selection is made based on the application.

Canada Blower Ventilation Sets:

- Ten belt-driven sizes with 10" through 36" wheel diameters offer capabilities to 25,000 CFM;
- Choice of flat blade backward inclined or super-quiet airfoil wheel;
- Easily accessible motor compartment with adjustable motor platform;
- Rotatable fan housing to any of six standard discharge positions;
- Heavy-gauge fan construction... welded steel housings and wheels... bolted bases... reinforced inlet and outlet;
- Wide choice of ventilator accessories: weather cover/belt guard, spark-resistant construction; vibration isolation.

Another quality Canada Blower product - high temperature fans:

- high temperature fans and blowers for operation up to 2,200 F;
- centrifugal and axial plug fans for oven applications;
- free standing thermally insulated centrifugal fans;
- variety of fan accessories: housings, shrouds, forced air and liquid cooling systems, shaft seals, insulated plugs..