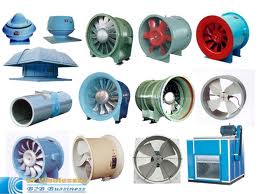 INDUSTRIAL MIXFLOW FANS
- Direct driven and belt driven arrangements;
- Sizes from 6 inches to 84 inches wheel diameters;
- Airflow up to 300,000 CFM;
- Static pressures to 14" of water column;
- Aluminum, stainless steel and alloy construction available.
ILNLINE FAN ACCESSORIES:
- Explosion proof and spark-resistant construction;
- Variable inlet volume dampers;
- Silencers and acoustical cladding;
- Roof Fan mounting arrangements;
- High temperature fan ventilator construction
- Easy-access swing-out construction
Quick supply of idustrial axial fans, air circulation ventilators, warehouse ventilators, high volume ventilation fans, hot air ventilation fans, industrial exhaust fans, portable industrial blowers, garage ventilators, PRV roof fans, explosion proof pressure blowers, wall ventilators, fan wheel blades, combustion pressure blowers, pvc ventilators, ID fans, FD fans, force draft ventilators, induse draft blowers, propylene & FRP PVC ventilators, spark-resistant blowers, sealed ventilators, dust collector ventilators & fans. Heavy duty custom built industrial and process fans blowers and blowing systems in Buffalo, New York. Sales of Chicago Blower, Canada corrosion resistant, high pressure and high temperature sealed fan/blower ventilators
Air fans, blowers and ventilators for industrial plants from Buffalo, New York. Sales of industrial axial power roof and wall ventilators, exhaust and supply centrifugal spun aluminum fans and blowers.